Mayank Aggarwal, 29, is recuperating in a city hospital after donating part of his liver to his father this past week. Interestingly, Aggarwal was rejected as a donor just three months earlier, as tests found him to have Grade 1 fatty liver.
"He didn't know about his condition as liver disease doesn't produce conspicuous symptoms in most cases. By the time symptoms appear, the liver is already about 70% damaged," says Dr Manav Wadhawan, senior consultant in the department of hepatology at New Delhi's Fortis Escorts Heart Institute.
In Aggarwal's case, the obvious culprit was his lifestyle — a corporate job with long hours, lack of exercise, erratic meal timings and high junk food intake, which leads to increase in gut fat and accumulation of fat in the liver.
Since Grade-I fatty liver is a rever-sible condition, Aggarwal resolved to get back into shape and get fit enough to
help his father out. He managed this in three months.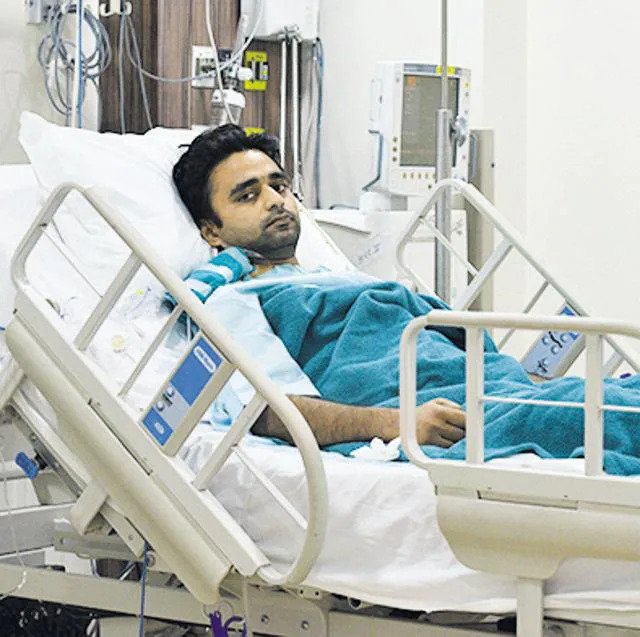 (Arun Sharma/HT PHOTO)
"We put him on a diet and strenuous daily cardio workout for about three to four hours daily. It's simple maths; if your output is more than your input, you will lose weight," said Dr Wadhawan.
RISK FACTORS
Fatty liver, if left unchecked, can progress to cirrhosis — scarring of the liver and permanent damage.
"Studies have shown one in five people have fatty liver in India, and they are not aware of it," says Dr SK Sarin, director of the Delhi government-run Institute of Liver and Biliary Sciences (ILBS).
"Earlier, Hepatitis B and C were the leading causes of liver disease. These have now been replaced by lifestyle disorders such as obesity, diabetes and alcohol consumption."
Read: One simple beverage can cut your risk of liver disease. Find out which one here.
What is even more alarming is that liver disease is being reported among the young more frequently than before, via initial symptoms as mild as loss of appetite and lethargy.
Liver converts the food we eat into stored energy and also acts as a filter to remove toxic substances from the blood.
Damage to the liver can result in toxin build-up within the body that gradually starts damaging other organs, including the brain.
While obesity is a contributing factor, nutritional causes of fat in the liver include excessive alcohol intake,
under-nutrition and insufficient protein intake. Uncontrolled diabetes is another causal factor.
"In my practice, alcohol-linked cirrhosis is also on the rise, particularly among men. And women with polycystic ovarian syndrome are more prone to non-alcoholic fatty liver disease," says Dr Mehul Choksi, Consultant Gastroenterologist at Mumbai's Hiranandani Hospital.
Alcohol remains a key factor worldwide, and doctors warn against intake of more than 40 ml of alcohol a week for women and 80 ml for men. And even this, only in those with no history of obesity, high blood pressure or diabetes.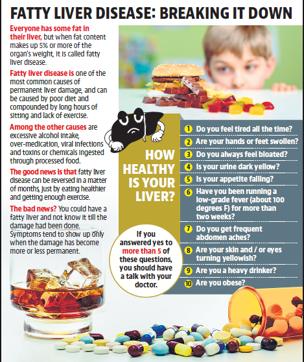 MINOR CONCERNS
A study underway at the All India Institute of Medical Sciences (AIIMS), Delhi, enrolled 218 children between the ages of 10 and 16, with high Body Mass Index (BMI), and found that 40.4% had mild, 18.7% moderate and 3.4% had severe fatty liver.
Read: Five more ways to dodge liver ailments
Lifestyle changes can reverse mild fatty liver, but if ignored or left untreated, 10 to 20% may develop chronic liver problems," says Dr Vandana Jain, additional professor in the department of paediatrics at AIIMS. "Globally, chronic liver disease is the number one cause of paediatric liver transplant."
Senior paediatrician Dr Anupam Sibal adds that he sees a lot of obese kids in his OPD, of which about 25% have issues with their liver.
"Kids are not eating right, water intake is minimal, there's hardly any exercise," he adds. "All this is a perfect cocktail for obesity and serious health conditions later in life."
(With inputs from Roshni Nair)