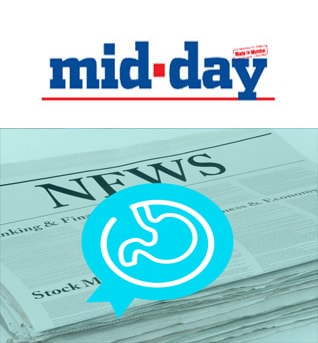 Endoscopy experts in Mumbai recently saved the life of a 28-year-old woman, who had accidentally swallowed a 5.2-cm-long iron pin. The pin was recovered from her small intestine, and she did not have to undergo surgery, said doctors from Fortis SL Raheja Hospital.
They said the patient had put the pin in her mouth to free up her hands to tie a veil. "Surprisingly, she did not report any symptoms after she swallowed it. She was brought to the hospital's emergency department with severe abdominal pain only six hours later," said Dr Mehul Choksi, consultant gastroenterologist and therapeutic endoscopist.
An X-ray suggested that the pin was in her stomach. (HT Photo)
Dr Choksi performed an upper gastrointestinal endoscopy to remove the sharp foreign body. When such objects are ingested, there is a high chance of intestinal perforation (formation of holes) and complications, if the patient waits for it to pass naturally. The endoscopy showed that the pin was not in her stomach or early small intestine, but had migrated deep into the long small intestine (jejunum).
Advanced and specialised endoscopy equipment called a 'single balloon enteroscope' was used to help navigate the long intestine and carefully retrieve the pin. There were no complications. The patient was discharged the next day, is currently doing well and eating normally, said doctors.
Media Sources and Links :